From: $29.95
Her Pink Pill- All-Natural Daily Women's Sexual Health Supplement
Her Pink Pill Benefits
Urologist formulated
Guaranteed Results
Boosts Women's Libido and Desire*
Enhances Performance, arousal and Lubrication*
Increases Drive, Drive Stamina, and Pleasure*
More Passion and Energy for Sexual Activity*
Her Pink Pill is the first all-natural women's daily sexual health supplement that helps women with varying degrees of sexual dysfunction. Her Pink Pill helps boost libido and desire, enhances performance, arousal and lubrication, and increases drive, stamina and pleasure. There are 26 male sexual health supplements on the market and now there is finally one for women. The FDA finally recognized the issue of the lack of women's sexual health supplements and is working to pass a pharmaceutical medication. Her Pink Pill is a non-prescription alternative for women and is offered at a fraction of the cost of any prescription medication.
"Her Pink Pill was developed to help maximize and restore youthful female sexual health. It increases blood flow for better lubrication and arousal, enhances libido and sexual satisfaction with ingredients proven to work in medical studies. These key ingredients show tremendous results for women." "When it comes to regaining sexual desire and performance, men get all the attention. But from menopause to childbirth to birth control, to daily stress, millions of woman have troubles as well. We created Her Pink Pill as a first-of-its-kind solution to get women the help they're looking for."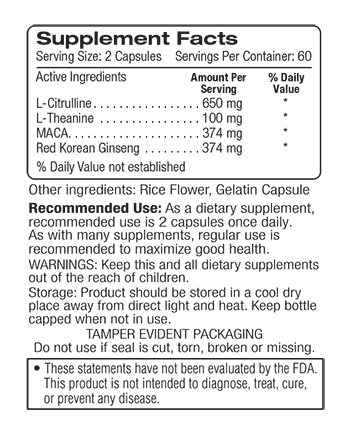 Her Pink Pill is made up of four powerful ingredients: L-Citrulline, L-Theanine, MACA, and Red Korean Ginseng.
L-Citrulline –
 works to increase nitric oxide in the blood stream that causes increase blood flow to the clitoris. This supplement is shown to work with no side effects.
L-Theanine –
 is introduced to Her Pink Pill as an antioxidant and stress reducer. Studies have shown that when women are in a less stressful situation they enjoy sexual activity better.
MACA –
 is a root vegetable native to the high Andes of Peru. It increases arousal in men and women, increases energy, stamina, athletic performance and memory.
Red Korean Ginseng –
 which has been used in Chinese medicine for years to help increase male and female satisfaction. It also works as an antioxidant to rid the body of free radicals. Her Pink Pill is the first option available for women looking for a solution to their sexual health needs.