Testosterone Booster Plus was formulated by two practicing Urology Doctors, with over 60 years combined experience treating patients. The ingredients in Testosterone Booster Plus are all clinically proven to work to boost your bodies natural testosterone levels. Testosterone Booster Plus is an all natural way to boost your testosterone for improved athletic performance, increasing testosterone levels and more.
Key Benefits of Testosterone Booster Plus:
Increases Testosterone Levels
Increases Energy
Enhances Sexual Drive and Performance
Better Energy Metabolism
Increase Exercise Training & Muscle Health
Athletic Enhancement
Low Testosterone Q & A
Do you have a decrease in sex drive?
Do you have a lack of energy?
Do you have a decrease in strength or endurance?
Have you lost height?
Have you noticed decrease in you "enjoyment of life"?
Are you sad or grumpy?
Are your erections less strong?
Have you noticed a recent deterioration in your ability to play sports?
Are you falling asleep after dinner?
Has there been a recent deterioration in your work performance?
If you answered "yes" to questions 1 or 7, or any other three questions you may have low testosterone levels, and Testosterone Booster Plus can naturally help boost those levels and get you back into a healthy range.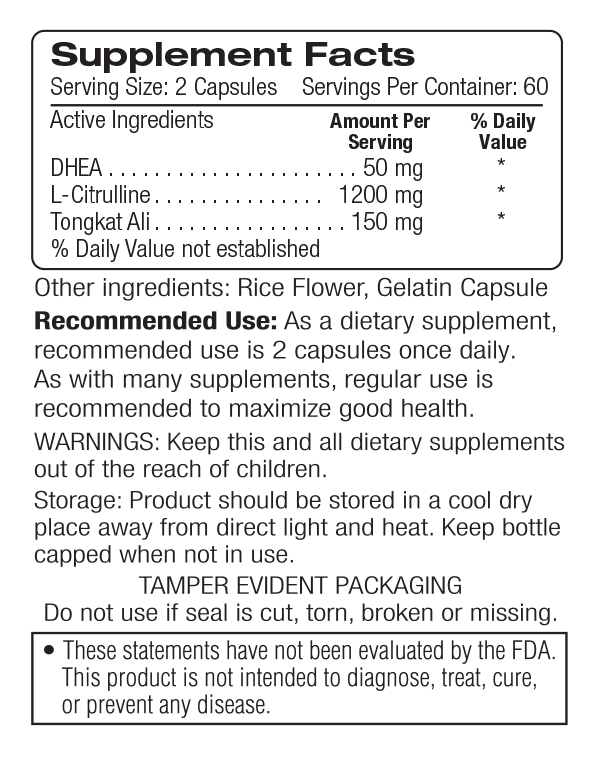 The powerful all natural ingredients in Testosterone Booster Plus is what allows your body to naturally increase testosterone levels and get back into a healthy routine.
DHEA– These are the building blocks your body needs to convert into testosterone, DHEA was studied in a year-long trial by the Washington University Medical School of Medicine and published in the Amercian Journal of Clinical Nutrition and showed that testosterone levels increased when DHEA was taken daily.
L-Citrulline– Increases blood flow by introducing nitric oxide into the bloodstream, this ingredient is much more direct than its popular counterpart L-Arginine because it is more effective and direct in smaller doses. This can help increase muscle growth, boost strength, impact growth hormones and increase testosterone production.
Tongkat ali– Studies shows increases in male health, including sex drive, testosterone levels, and sperm quality. Tongkat ali, in clinical trials has shown no side effects and shows to increase T-levels by 50-100 points.
The ingredients in His Blue Pill are 100% holistic and have been researched in numerous research studies and are proven to work.The three ingredients in the His Blue Pill are L-Citrulline, MACA, and Red Korean Ginseng.
L-Citrulline – works to increase nitric oxide that causes increased blood flow without complications according to a study in the Journal of Urology. In this study, men were very satisfied with their results and no adverse effects occurred with L-Citrulline.
MACA – is a root vegetable native to the high Andes of Peru. It increases arousal in men and women, increases energy, stamina, athletic performance, and memory.
Red Korean Ginseng – which has been used in Chinese medicine for years to help increase male and female satisfaction. It also works as an antioxidant to rid the body of free radicals and has been shown to help people with heart disease.
His Blue Pill is an all-natural sexual health supplement without the harmful side effects that the prescription medications have, and at a fraction of the cost. Men all around the world will love the effects that His Blue Pill have on their sexual lifestyles. Cost less than 2 Viagra and a third the cost of a bottle of Daily Cialis.
A Few things to keep in mind:
Physical exercise and healthy eating habits can help control your weight and will improve cardiovascular health. (This helps you body naturally maintain T-Levels)
Alcohol in excess can cause weight gain, increase estrogen levels in men, and negatively impact cells that produce testosterone.